EXTER CATHEDRAL ART EXHIBITION PV NIGHT SUCCESS
Posted on
EXETER CATHEDRAL ART EXHIBITION PV NIGHT
What a fantastic Art Exhibition it was! Filled with fine Art from around 70 local talented Artists each painting was unique. It was amazing to see so many different interpretations of one building!
Pictures from the amazing PV night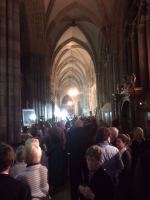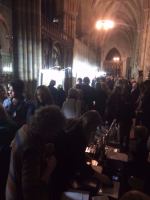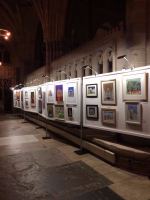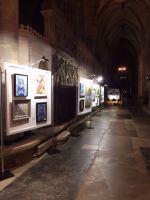 The exhibition was organised by the lovely Dr Lisa Gibbons a talented Artist friend of mine Jayne Farleigh. They did an amazing job over many many months to make sure the whole exhibition went off without 'a hitch' and it did! The PV night was incredibly busy. Hundreds of people were in attendance including a wonderful carol recital from the talented choristers from the Exeter Cathedral School and a speech from the Bishop of Exeter Sr Robert Atwell. An amazing introductory speech was given by the very flamboyant wonderful socialite Sally Sedgman who gives speeches and spends her time living between her Devon home and London. The choristers sung beautifully they really did. The building is almost 1000 years old and one of the most awesome Cathedrals in the Country. We were lucky to have such an amazing venue to exhibit our work.
25% of the money raised from sales went to the upkeep of the Cathedral and the choristers fund. The exhibition ran throughout the last week of November and the first half of December.
I was thrilled to sell one of my originals I was exhibiting there called 'This Most Holy Night'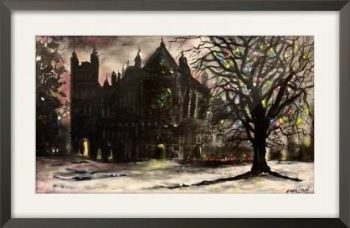 Limited edition prints are available. I also have 2 other Exeter Cathedral Art original paintings for sale and 1 limited edition framed print.
If you are interested in purchasing these (please see the pictures below) they are currently on display at BUSY BEE FRAMERS & GALLERY in Exeter. Telephone: 01392 677 178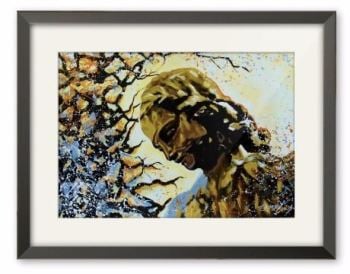 FAITH ORIGINAL FRAMED ACRYLIC
£240 23 X 17 inches incl frame.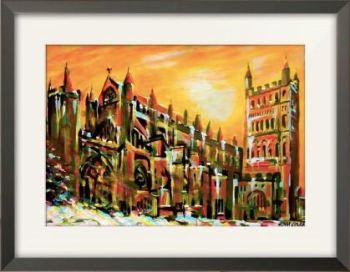 ILLUMINATION ORIGINAL FRAMED ACRYLIC
£240 23 X 17 inches incl frame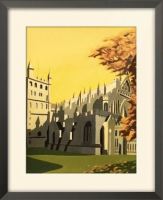 LIMITED EDITION FRAMED PRINT
ART DECO EXETER CATHEDRAL (Original Sold)
£95 17 x 12 (approx)
The above are all available to purchase through Busy Bee Framers and Art Gallery in Exeter.
They take a total of 40% off of sales made to me, 20% goes to Busy Bees and 20% to Exeter Cathedral. It is very kind of Stewart from Busy Bees to display a selection of unsold work from the exhibition by some of us Artists.
Thank you Stewart and Lisa/Jayne for arranging this.