SOLO EXHIBITION AT BIRDWOOD HOUSE GALLERY AN AMAZING SUCCESS!
Posted on
After a wonderful week exhibiting at Birdwood House Gallery in Totnes, my first ever BIG solo show was such an overwhelming success!
I cannot express how privaledged I was to meet some truly wonderful people there, both at the PV night and throughout the week! Totnes is alive and buzzing with Artists and bohemian souls who exude wonderful energy.
The PV night was amazing, I had 70 people turn up, friends and family to show their support and a great night was had by all. Many sales were made, with 7 original paintings selling both there and throughout the week. I was also commissioned a large piece of Art for a wonderful couple's new home, and a large dragon to paint!
The exhibition was to promote awareness of the vital importance of protecting wildlife and the environment, and I had a special guest attend Mrs Jacqi Hodgson who is the parlimentary candidate for the Green Party here who very kindly opened the show!
I couldn't be happier with the result!! Thanks to Anthea Tuckey who is the Art Director of Birdwood House Gallery for all your help and words of wisdom!
Sadly it was such a busy night I did not get the chance to take any photos of the buzzing Private View evening, so I took some pictures of the gallery the next day. It was amazing to think we managed to get 70 people inside. The atmosphere was electric!








A few photos of the Gallery after the main PV opening night. I met this wonderful couple who were thrilled with both their purchases. The lovely Morven from London, soon to hopefully move to Totnes and her man Jamie, both respectively bought 'Wake Up' my signature piece for the exhibition resonated greatly with Morven so he's gone to a new amazing owner! Jamie bought 'Fossils' one of my latest pieces and is still looking for some of the many creatures hidden within the painting!
Below original paintings sold throughout the week.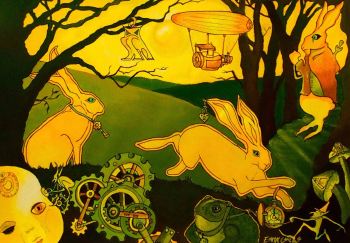 Sold original paintings during the week at my solo show at Birdwood House Gallery.