SANDS ROAD ART GALLERY
Posted on
I am excited to announce that a huge selection of my original paintings, framed prints and mounted wrapped prints will be on sale at Sands Road Gallery in Paignton in South Devon throughout May 2016.
All of my originals are now becoming very collectible both Nationally and Internationally. I sell a lot my prices are beyond reasonable as I believe that Art should not be inaccessible for people to afford! I create my Art with such a passion and want to share it and reach out to people so that they can enjoy it too and own original paintings at very affordable prices.
Nothing is priced at over £350. My large magical forest series (85x65cm) framed mounted and ready to hang are for sale at £350 each. They are highly detailed atmospheric and magical, wonderful escapism.
My smaller works range between £80 to £150. A lot of work and energy and time goes into creating my work resulting in successful sales because I am affordable and create Art that people like to hang on their walls and others follow me and collect my works.
My prices will raise in the future no doubt, but for now I am happy to create accessible Art for people to cherish, that is my focus!
Here is a SMALL selection of works that are available to buy at the Gallery, which will be shown throughout the month of May 2016.
They all are asking for loving admiring fabulous owners, hope to see you there! :)

Arbre D'or ORIGINAL Acrylic large framed 85 x 65 cream mount £350

The avenue at Dusk, ORIGINAL Acrylic large mounted cream 85x65cm £350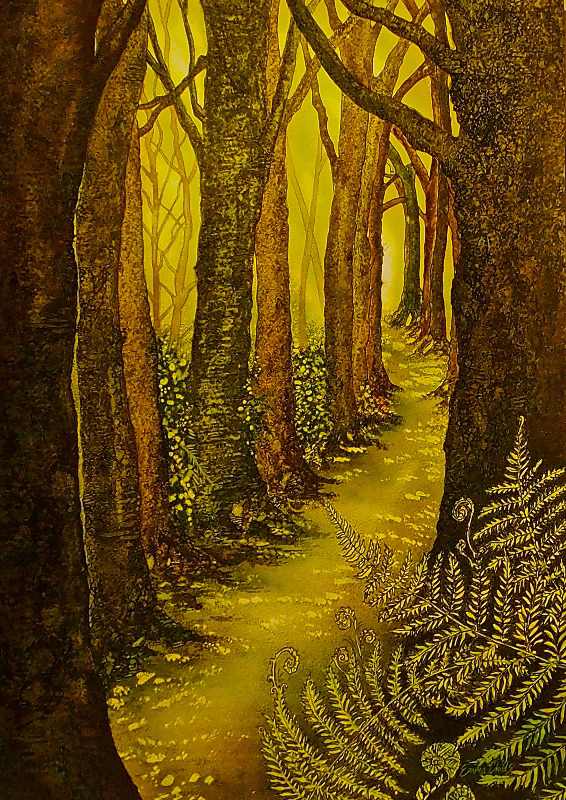 Enchanted golden Forest ORIGINAL Acrylic painting mounted cream 85x65cm £350




The 4 seasons. Very popular series re-produced, each one unique sold over again.
Highly attractive collection ORIGINAL Acrylic paintings double mounted in ivory black frame ready to hang £150 each.

Elves and ashes ORIGINAL Acrylic painting mounted ivory/cream ready to hang black frame £150



My Devon Sea collection ORIGINAL acrylic paintings, mounted ivory ready to hang black frame 23 inches x 19" £100 each


Purple Passion and fuchsia Forest, 2 ORIGINAL Acrylics ready to hang ivory mount black frame £150 each 85x65cm

Moonlit forest pathway. ORIGINAL Acrylic 20 x 16 inches approx mounted ivory black frame ready to hang £100
A HUGE selection of my limited edition prints are available to buy prices range from £35 to £25.
ONLY AVAILABLE THROUGHOUT MAY AT SANDS ROAD GALLERY in PAIGNTON, TORBAY.